Painting is most beautiful form of art to express feelings !!!
Here, Success & happiness stories of Exemptia patients beautifully articulated in a form of painting.
Let's Happiness prevail….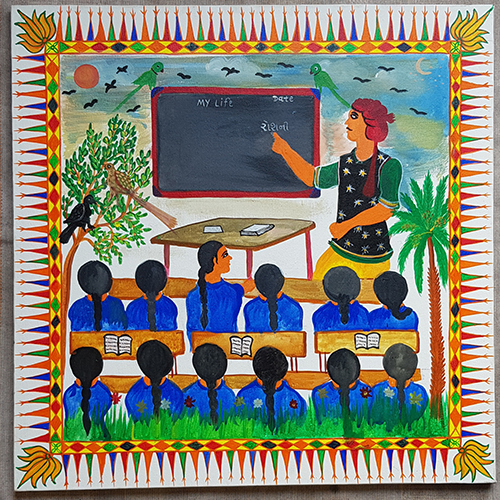 Seeing life in a new Light
Zainab, a child from Bangalore suffering from Uveitis with Juvenile Arthritis. Her parents were sad to see her in this condition and even she couldn't attend school for 2 years. After treatment with Exemptia, she reads easily what teacher writes on the board and plays with her friends happily.
Resilience is the key
A software engineer from Lucknow, Manish diagnosed with Ankylosing Spondylitis. This illness halted his daily set routine and he found himself helpless with almost zero mobility. In that miserable condition, Exemptia came to rescue him. He adhered to the given course and today his life is back on track.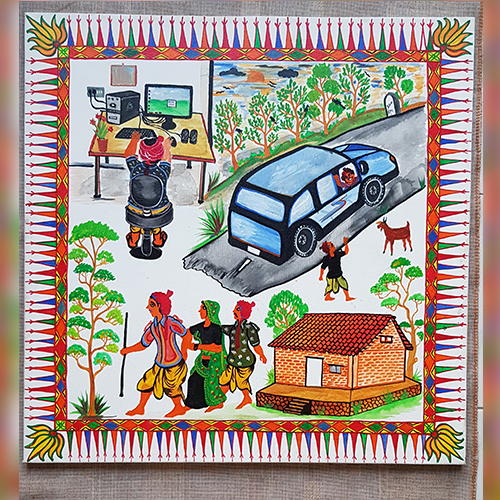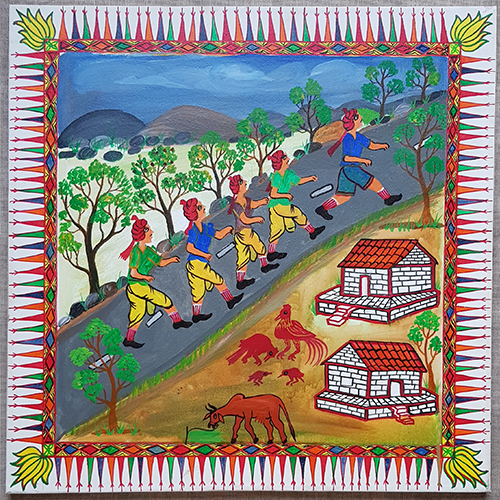 There is no finish line
Swayamprakash, an avid fitness freak & Marathon runner diagnosed with Ankylosing Spondylitis. His family was shocked to know that he could not even walk. He thanked Exemptia & his doctor as he is back to his normal running, after four year of pause!!
Family – A gift that lasts forever
Divya Nair, housewife from Indore, diagnosed with Rheumatoid Arthritis. She was going through unbearable pain & sufferings, but her husband supported in taking care of their daughter & other house hold chore. Exemptia entered in their lives & worked wonders on her. Divya's all hope converted into reality and she back to her normal life.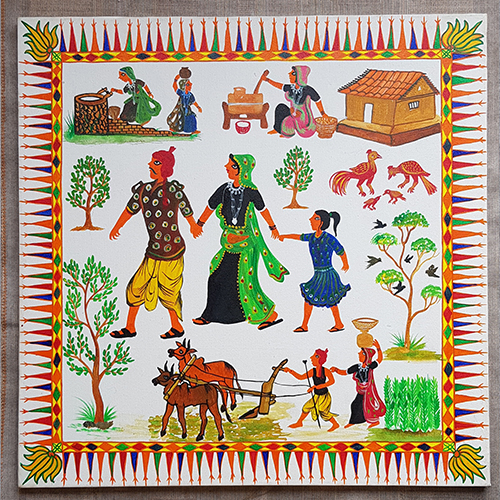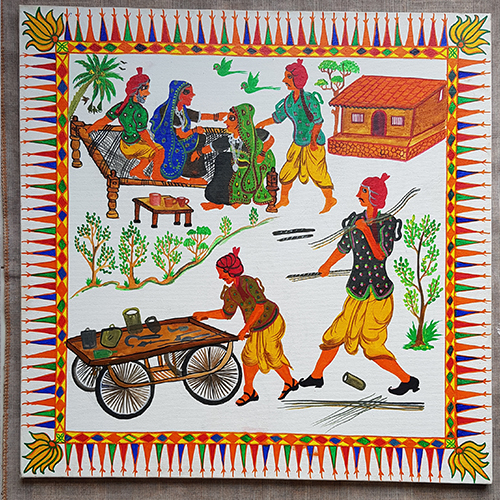 Family is Everything
Ramasagar, a scrap trader from Mumbai who was diagnosed with Ankylosing Spondylitis. He was struggling to make ends meet with his small business. At that time, doctor advised him for Exemptia treatment & with support of his in-laws today he is out of illness. Now he is back to his work & is a better life.
Fighting the Demons Within
Mr. Nanban, a businessman from Chennai. He is a hero who has fought against the pain and Exemptia has boosted all his strengths to fight against the evil illness.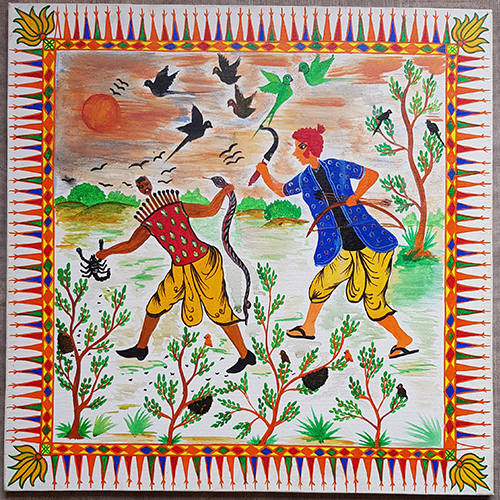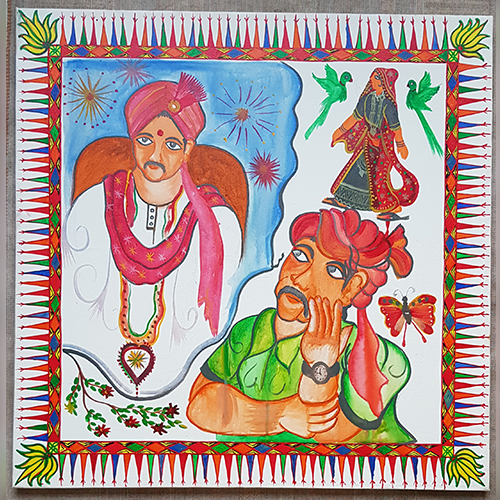 Walking Towards a Better Life
Anwar Khan, a businessman suffering from Rheumatoid Arthritis. He has sleepless and terrible nights due to pain. Just to turn his position was a nightmare. With Exemptia therapy, he is back to his normal life and felt so live & young.
Chasing the Dream
Mohammad Sumon Hossain, an aspiring cricketer from Bangladesh and lost his balance during practice. At that time, Exemptia came in his life as hero & rescue him. Now he is on his feet & playing in Bangladesh Premier League.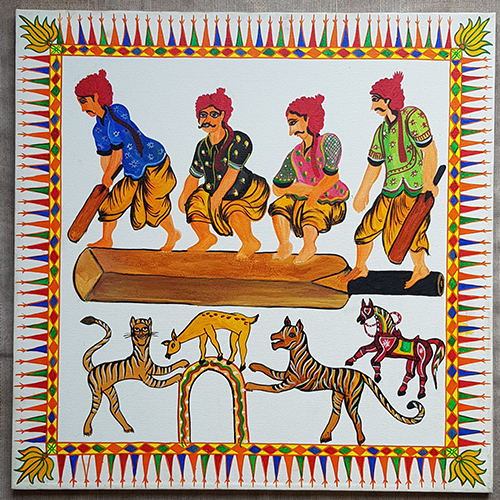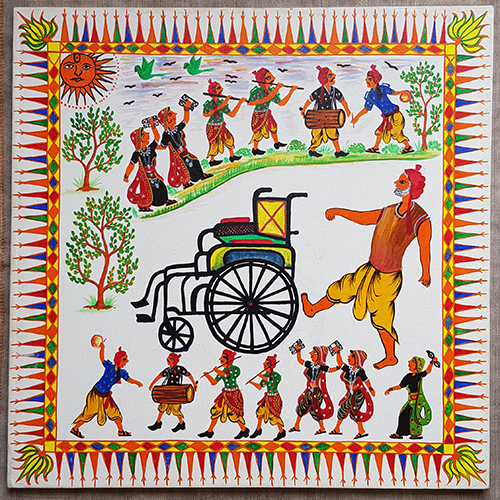 Nothing is Impossible
Mohammad Habib, who was bedridden & brought to the doctor on a wheelchair. Exemptia has helped him to out of his wheelchair. Now he found new zeal & strength in life.
Angel in Disguise
Yadaram from Jaipur, had to undergo hip replacement due to improper diagnosis. But one doctor did the right diagnosis & prescribed Exemptia. Now he is feely walking. He gave full credit to his doctor & Exemptia for making him stand and walk with both legs.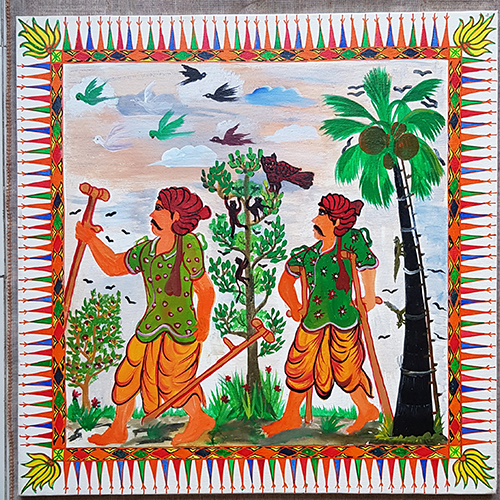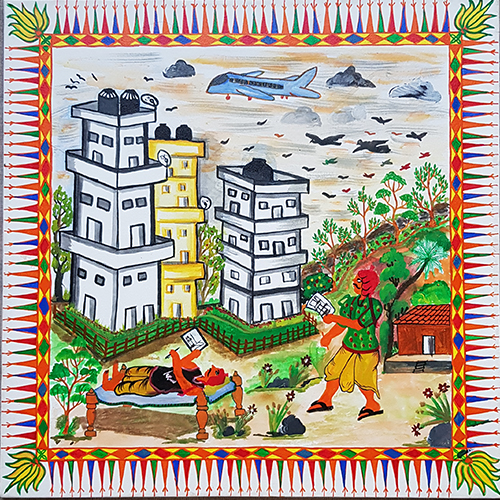 Standing Tall and Strong
Santosh, successful architect from Chennai. His world has collapsed when he diagnosed with Ankylosing Spondylitis. His condition deteriorated but he didn't lose hope of designing great buildings again. With Exemptia therapy, now he is back on his feet to achieve his dream of delivering the best to World!!
I see you
A 22 year girl, Simran from Delhi losing her eye-sight due to Uveitis. She tried therapies including Steroids which gave her temporary relief but she needed a permanent remedy. Her doctor suggested her Exemptia and her vision came back. Now she is living a life full of hope.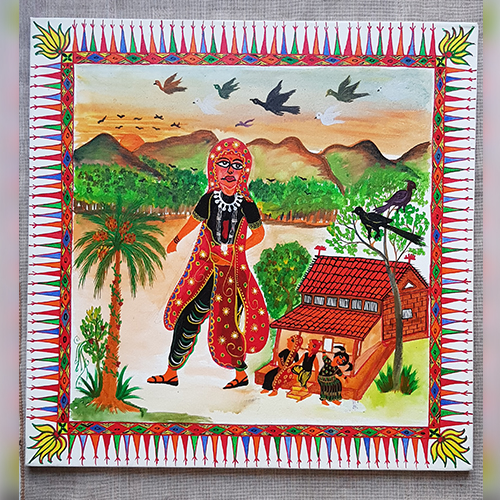 Quest for happiness….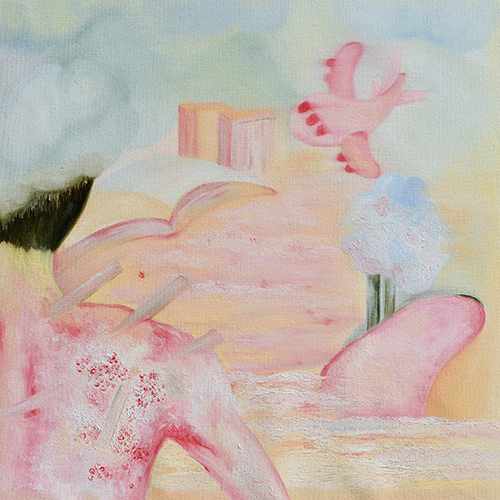 Dreamfoot
Bivash from Delhi is dreaming of fly high in his career since last 10 years. His life is currently stalled due to debilitate in disease. He hasn't given up on his dreams. He is spending time in introspection and understanding the true meaning of life. He knows what he has to achieve after he is cured from his illness. He is on the right path of meditation and on the verge of achieving his dreams!
Beautiful Faces of Change
Pain certainly brings tears but we are not meant for living in a pool of tears. We are beautiful creation of God; we can bring that beautiful smile back on our face. Because we know that God sees our struggle, all we have to do is to talk with him and listen to his directions. Priya Singh from Delhi is sure of being the face of change. She has suffered for many years and now ready to experience and enjoy her beautiful phase of life. Feathers and birds in this painting represent smooth and happy life ahead.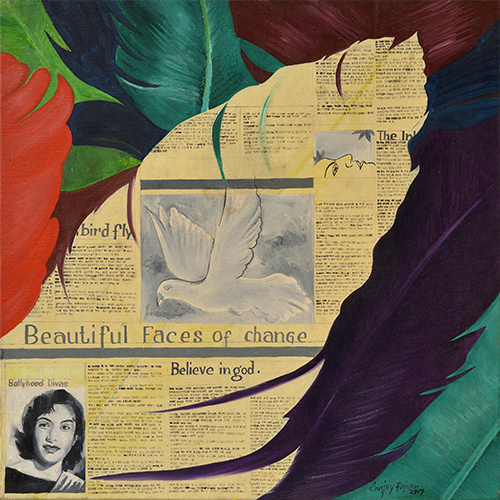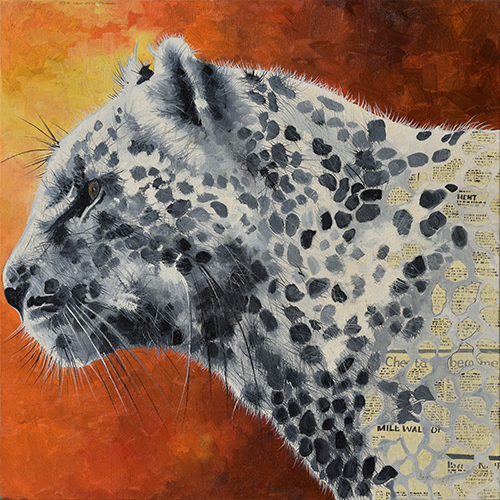 Marching Towards Goal
Achieving Health and Happiness is a common and prime goal of all patients and doctors. To achieve this goal, we ought to have the attitude of a Cheetah. We must not be afraid of failure and must keep our eyes marching towards our goal. Be the hunter and not the hunted, life rewards the winner! Susheel Kumar from Chandigarh is like this Cheetah who is always focused on his goal of being healthy & happy.
Flow of Positivity
Our family is our strongest support in extreme conditions of life. They are like our lifeline that will play with us to see us emerge as winners. Bikram Singh, 21 yeas young man from Punjab has gone through few surgeries but he hasn't lost his courage. He says his family is the biggest support system for him to be running on his feet again. This painting is made using fabric stitched on canvas. Stitches on fabric are symbolic to Bikram's surgeries. Flowers flowing though drip-bottle represent his family's love and the flowers in his hand depict his courage.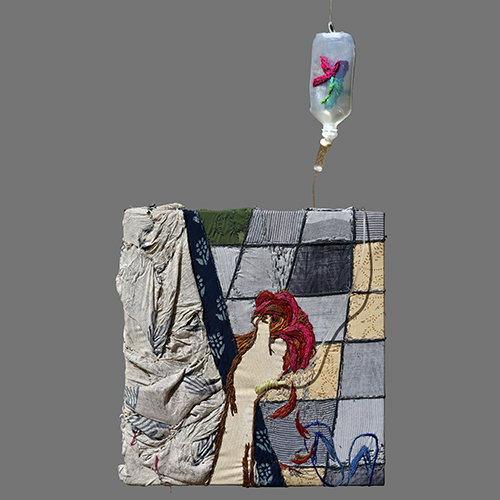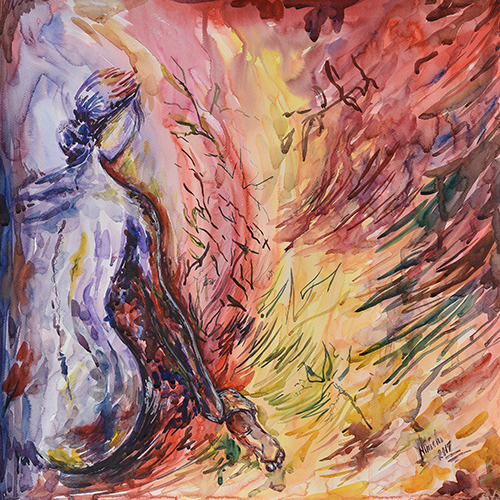 Transparency
Transparency is the most important factor for building relationship with patients; it creates trust which eventually leads to better and healthy life for patients. Dr. A. M. Jayaraman from Chennai believes in giving proper clarity to his patients and relatives. At times a doctor may have to scold his patient but after all, it is with a good and honest intention. The lady sitting in this painting represents a patient trapped by unwanted thoughts and imaginations. It is the doctor who clears all doubts and helps in bringing clarity & hope in their life.
Problem Vs Solution
Who makes 'Roti' using iron (the appliance), someone with half knowledge or with borrowed knowledge, right? This painting shows the end result of finding a miserable solution to a problem. Google search is the answer for every problem in the virtual world but real world is far more complex and demanding. We can't afford to follow solutions offered by Google when it comes to health. We must follow our doctor's advice so as to avoid getting into a sorry situation. Many doctors think that, "It is very important to unlearn before you learn." Sometimes, unauthorized and unsolicited online and offline health advises will lead you to wrong treatment as depicted in this painting.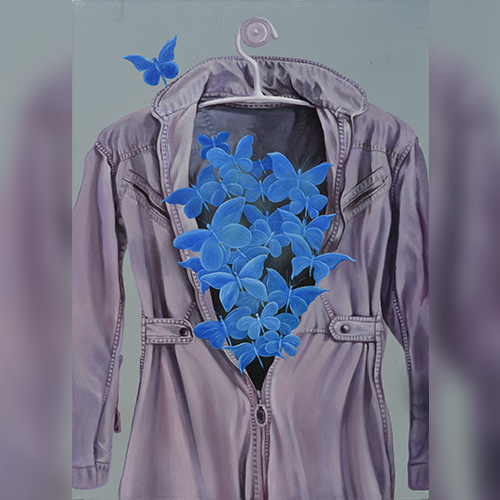 Apron of love and care
… And that's exactly what Doctors do. Love and care for patients is the most important ingredient to add joy to their sufferings. Five and half years old Jia, suffering from Uveitis, is a happy child today. Her sufferings disappear when she meets her doctor. Motherly care from her doctor is impacting Jia's health positively. She is improving day by day! Apron is synonymous with Doctors. This painting shows silk apron with butterflies coming out of it. Butterflies represent beauty and happiness while the apron is shelter of the beauty!
To be or not to be
"To be or not to be, that is the question: Whether it is nobler to suffer the slings and arrows of outrageous fortune or to take arms against a sea of troubles, and oppose them & end them?"
'To be or not be' is the question that a disease leaves us with, especially when it is in mind that this illness is going to stall our life for long. This situation makes us believe that life is complex but defeating painful complexity should become our motto. Sachin Gupta from Delhi had to undergo hip replacement surgery due to trying wrong medication for his Ankylosing Spondylitis. He is unshaken by his life's complexities. He knows that he will do one thing lifelong that he loves to do, Yoga!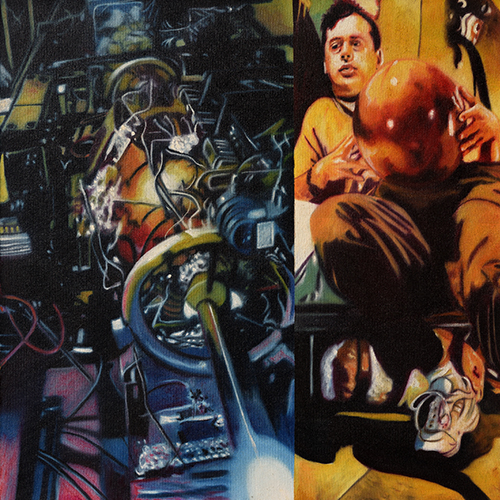 Clouds of Wisdom
Clouds have silver lining and sunset pushes sun to rise. The fight between cells and its own brother cells may seem unending but we as master of our body have to learn to fight to clear off the clouds of doubt, pain and darkness. Almighty is a friend of those who never give up! If you notice, there is a hidden face in the painting, representing Shreya Banerjee from Kolkata. She knows that clouds are not meant to stay there forever. They want her to wait for rays of hope and colors of the sun to bloom.
Care
Jia is a five and half years old innocent girl with a complex disease. She is being loved by her family – Father, Mother & sibling. But she is most happy when she meets Dr. Padmamani. Jia loves her doctor because she cares for her like her own daughter. It is Dr. Padmamani who advocated for Jia's smooth school admission process. Jia wears clothes as per her doctor's choice of colours! This is definitely a platonic relationship between two strangers. This painting depicts the very same artistically.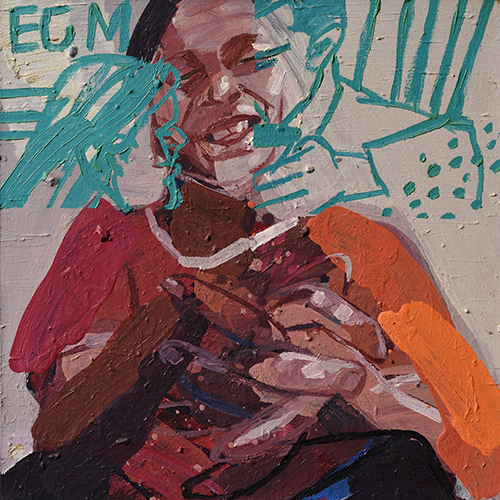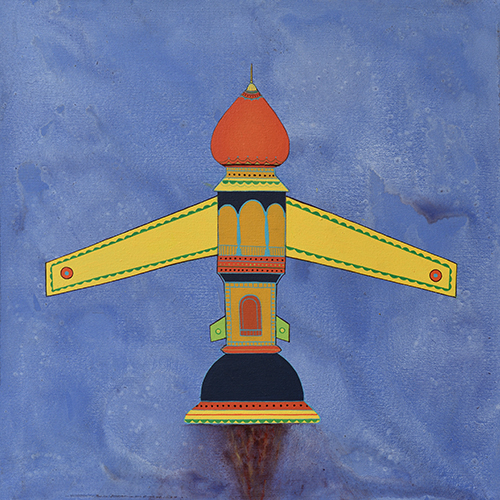 Fly
A disease does not make us feel as if we are old or becoming a heritage! We are fighters, we know we have wings to spread, we know we are born to fly. We will fly high, again, for sure! Swayam Prakash, a passionate Jogger, believes in this fact and he is sure of running many marathons across the country. This painting showing a heritage building with wings and fire at the bottom showcases the burning desire within to relive and rejuvenate their stagnant life
Walking through Shadow
Shadows are cast and controlled by light. To make it big or small depends on the direction we choose to move. This painting shows the dilemma of a patient going through pain. Initially he chooses to ignore his pain and decides not to discuss about it. Priyadeep Mukherjee and his family were going through the dark phase of their life due to his illness. But the light of right treatment helped him see the path of happiness and move forward on it.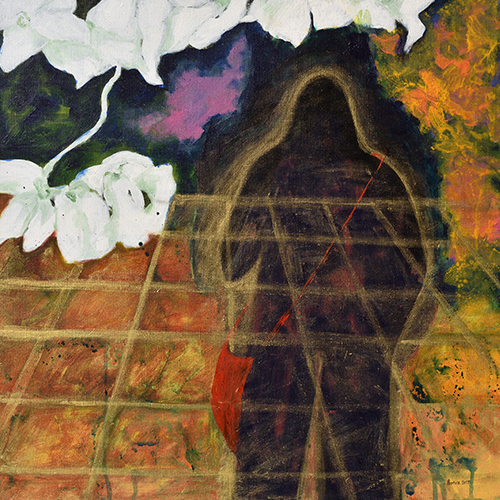 Painting of Hope….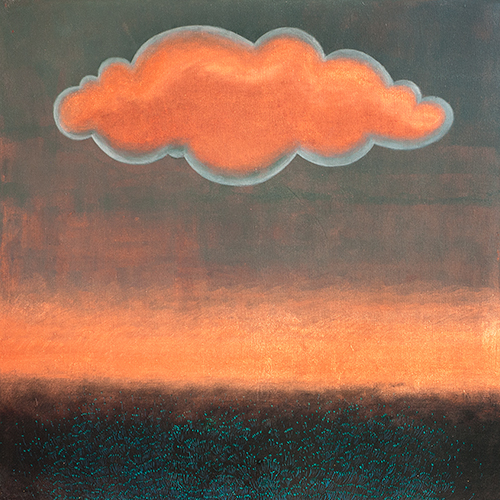 Silver Cloud
When Mr. Sushil Kumar was in deep despair, he looked for a silver lining in the cloud with the hope of getting cured from chronic pain. His life dropped deeper into negativity when social pressures from neighborhood further aggravated his pain. Exemptia, a silver line in the cloud of pain, brought his life back into action.
Power
A disease brings a lot of restrictions to life. It can destroy a running business due to awkward situations created by the disease.
It put Mr. Gorakh into many embarrassing situations. People kept a safe distance from him due to his illness. The painting shows an Eagle, a symbol of 'Power' taking away the evil disease. This eagle also provides the required shelter to the vulnerable. Exemptia represents this 'Powerful' Eagle.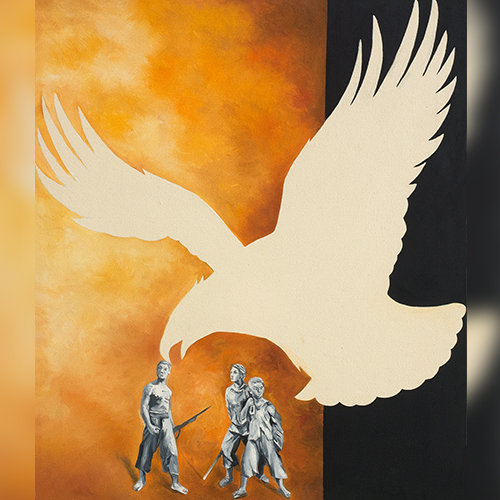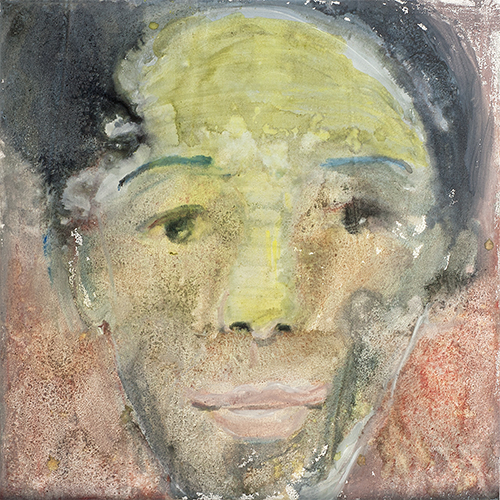 Pain
Pain can't be hidden for a long time. It reveals itself in any form. In Mr. Krishna Kumar's case, it started appearing on his face when he sank deep in despair. Pain of Arthritis made him immovable for a long time. Thankfully Exemptia changed the face of his life, and now he is living a healthy and a positive life.
Invention
Introduction of Exemptia proved to be a boon for the young and bright Mr. Wasim. He was diagnosed with Ankylosing Spondylitis but thanks to Exemptia, he is fit and fine today!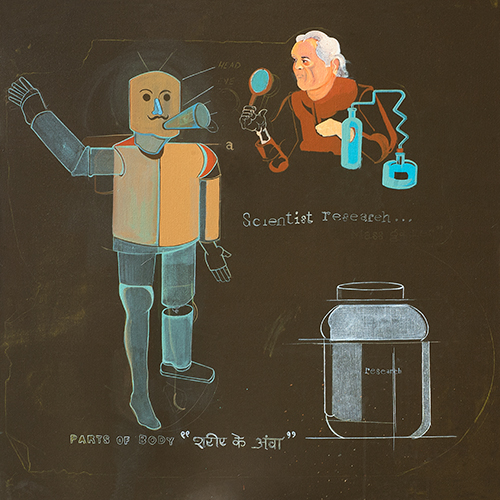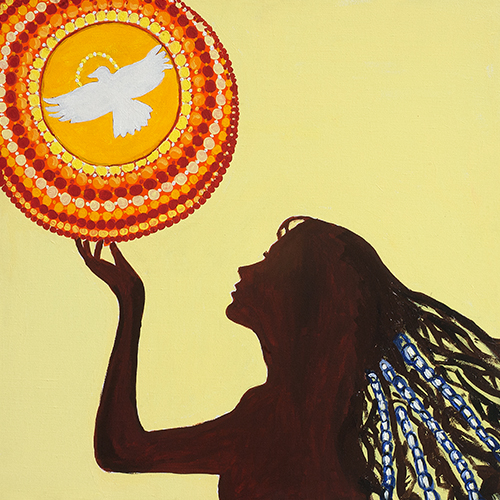 Hope
The lady in this painting is Mrs. Ameena. She is held back by chains causing her unbearable pain. She has chosen hope instead of surrendering to the pain. Exemptia is the bird assuring of a life free from all shackles.
FLY
The painting shows a depiction of Mr. Ajay escaping from the claws of illness. Exemptia's powerful therapy liberated him from perpetual pain and restored his eyesight.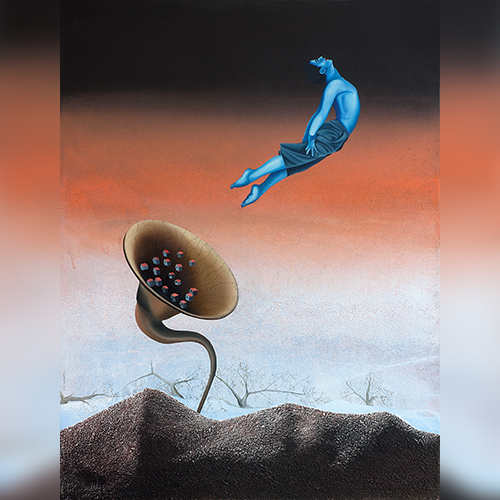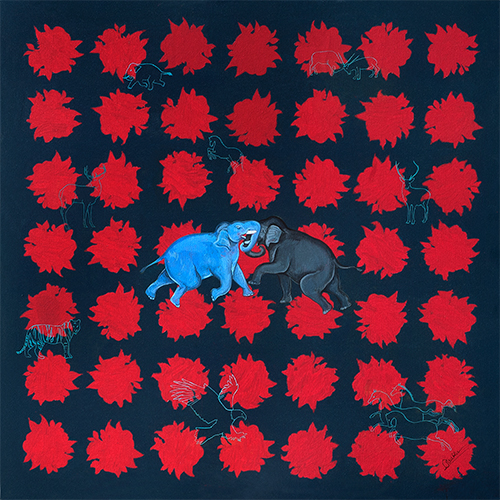 Fight Within
Life should ideally be a bed of roses but many choose to make it a bed of thorns due to their own thinking. A small and frequent health problem if suppressed for long may erupt as a volcano to destroy our lives. We have to stop fighting with ourselves and strive to make our lives a bed of roses again.
Enlightening
This painting shows the dilemma of a patient going through pain. Initially, he chooses to ignore his pain. He avoids discussing about his problem with the society. Negative thoughts surround his life. Mr. Priyadeep and his family were going through the dark phase of their life due to his illness. But the light of Exemptia showed him the path of happiness. He is back to normal. His life has once again become a life worth living.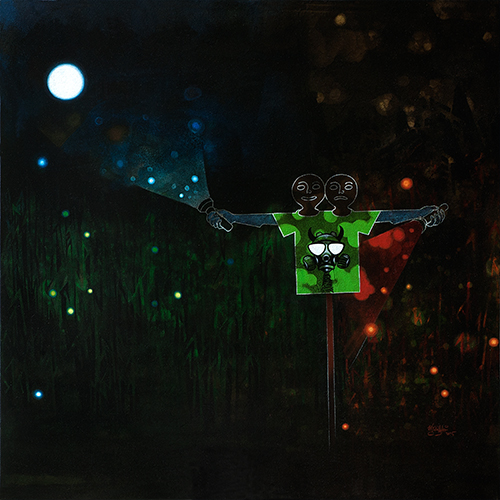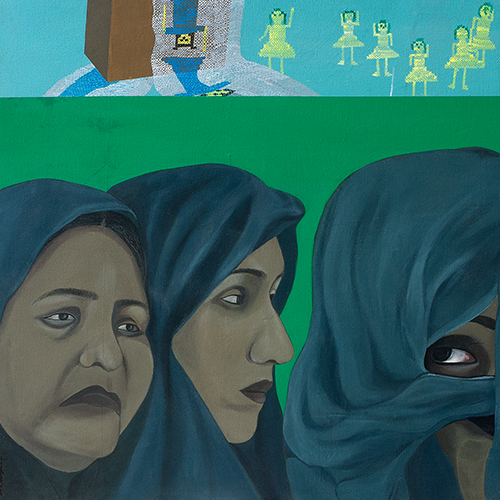 Change
The painting shows su¬ffering of women going through acute pain. Even today, there are women in our society who do not speak of their su¬fferings. It is their family members' duty to introduce them to the right cure (Exemptia) to make them happy again. Mrs. Krishna spoke about her problems. Her husband took proper care of her. Exemptia did the rest in bringing her back to normal..
Balance
Life is about striking a balance. But the balance tilts obliquely on one side when a patient gets struck by a chronic disease. Mr. Vidyasagar lost his balance on both fronts, personal and professional due to Arthritis. After months of suffering, he chose Exemptia which gradually helped him restore the balance and confidence in his life.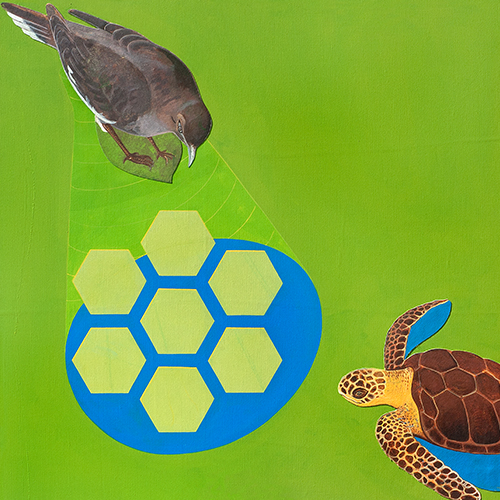 Aspiration
Life becomes as slow as the turtle shown in this painting when someone suffers from a chronic disease. The turtle envies the free high life of a bird. Ms. Raksha was feeling like the turtle. But her wish to be like a free bird didn't die in her. She chose Exemptia to relieve herself from pain and agony.
Unstoppable
Mr. Swayam Prakash was a passionate jogger. His life became hell when he was diagnosed with Ankylosing Spondylitis.
He became like the jogger in this painting. Dark color denotes helplessness. But he got the boon of Exemptia and the true jogger in him was reborn!