Crohn's Disease
Crohn's disease is characterized by patchy, transmural inflammation, which may affect any part of the gastrointestinal tract. It may be defined by location (terminal ileal, colnic, ileocolic, upper gastrointestinal), or by pattern of disease (inflammatory, fistulating, or structuring). These variables have been combined in the Vienna classification. About 50% of patients with IBD affecting the colon are unclassifiable after considering clinical, radiological, endoscopic and pathological criteria, because they have some features of the both conditions. This can be termed indeterminate colitis (IC).
---
What is Exemptia?
Exemptia journey- Data on Biosimilarity
Exemptia contains adalimumab which is biosimilar of originator's adalimumab. It is an exact fingerprint match of originator's adalimumab. Biosimilars are defined as 'similar' or 'highly similar' to the reference medicinal products (originator products) following the EMA (European Medicines Agency) and FDA (Food and Drug Administration, USA) regulatory guidelines. Biosimilars having the similar level of efficacy and safety compared to that of the originator products provide additional advantage to patients in terms of affordability and lost-cost of therapy, while expanding the patient access to therapies. Despite of its complex molecular nature, a target-directed approach for development has been proven highly successful to generate monoclonal antibodies similar to the originator products at the level of individual quality attributes with same functional properties.

Exemptia, termed as ZRC-3197, has been developed indigenously by Zydus-Cadila (Cadila Healthcare Ltd.), as biosimilar medicinal product of originator HUMIRA®. Originator HUMIRA®, a TNF blocker, is used for the treatment of rheumatoid arthritis, juvenile idiopathic arthritis, psoriatic arthritis, ankylosing spondylitis, Crohn's disease and plaque psoriasis. Adalimumab, which serves the active substance of originator HUMIRA® is a fully human monoclonal IgG1 antibody produced recombinantly in genetically engineered Chinese Hamster Ovary (CHO) cells. Adalimumab is composed of 1330 amino acids with a molecular weight of about 148 kDa. Physicochemical and functional characterization of Exemptia and HUMIRA®, on a comparative basis to demonstrates biosimilarity between both.
Comparison between the Exemptia and originator HUMIRA® by HP-SEC analysis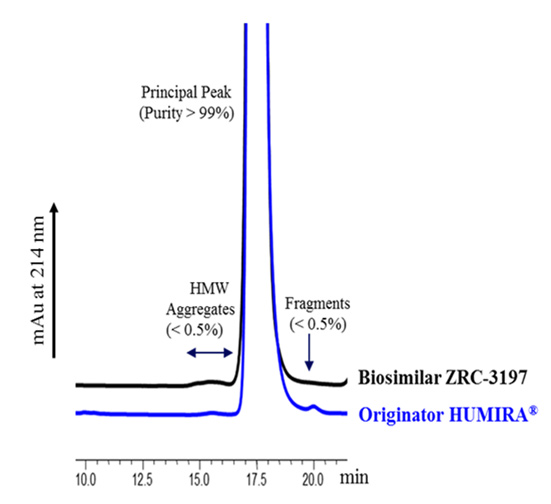 Comparative analysis of Exemptia and originator HUMIRA® for different size variants of adalimumab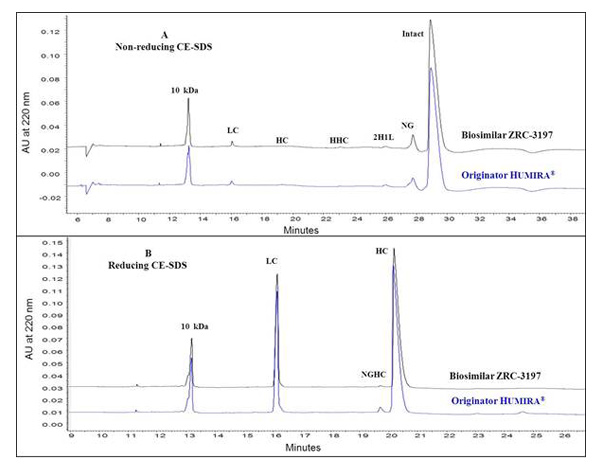 Charge heterogeneity profile comparison between the EXEMPTIA and HUMIRA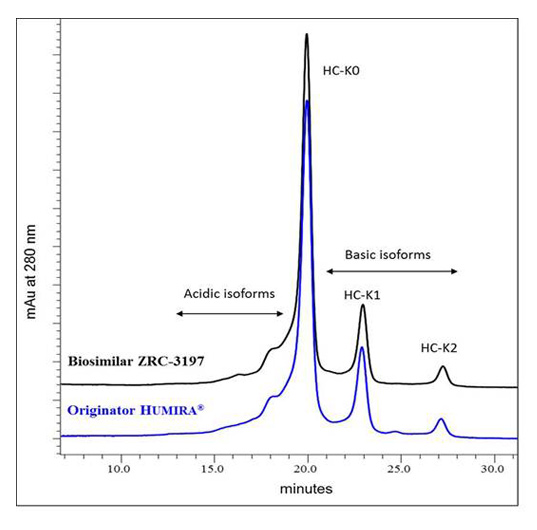 Glycans profile comparison between the EXEMPTIA and HUMIRA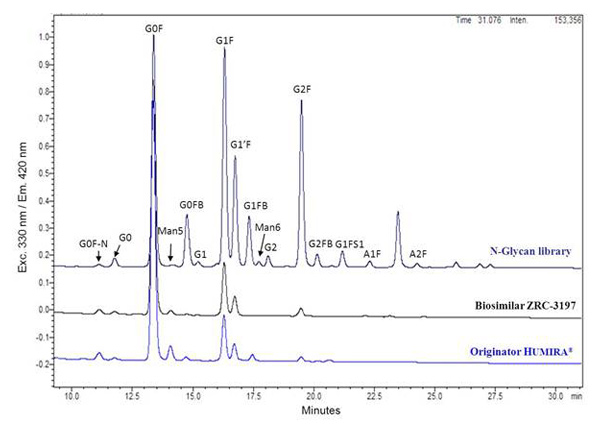 Secondary structure analysis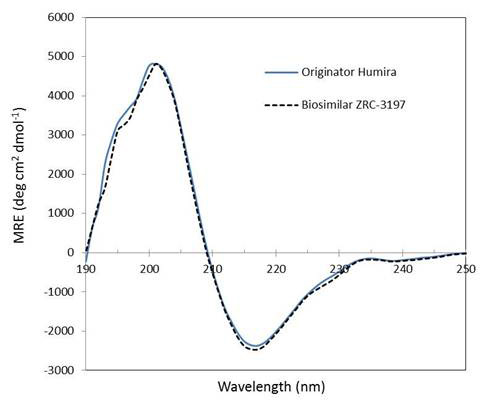 ---
Pathophysiology of IBD
According to the currently accepted hypothesis, ulcerative colitis and Crohn's disease result from a dysregulated response of the mucosal immune system toward intraluminal antigens of bacterial origin in genetically predisposed persons. A number of pro-inflammatory cytokines, including interleukin-4 (IL-4), IL-5, IL-6, IL-10 and tumor necrosis factor-alpha (TNF-α), have been recognized to play a central role in mediating this immune response. Genetic and environmental factors induce impaired barrier function in the intestinal mucosa. Initiating triggers may involve infections in some patients. Altered barrier function subsequently induces the translocation of commensal bacteria and microbes.
TNF-αlpha mediates multiple proinflammatory signals that play a central role in the pathogenesis of IBD, including neutrophil recruitment to local sites of inflammation, activation of both coagulation and fibrinolysis, and induction of granuloma formation. Increased numbers of TNF-αlpha producing cells are present in intestinal biopsy specimens from IBD patients.
Moreover, enhanced secretion of TNF-αlpha from lamina propria mononuclear cells has been found in the intestinal mucosa of IBD patients. In Crohn's disease tissues, TNF-αlpha positive cells have been found deeper in the lamina propria and in the submucosa, whereas TNF-αlpha immunoreactivity in ulcerative colitis is, mostly, located in subepithelial macrophages.
The advent of corticosteroids 4 decades ago enabled physicians and surgeons to bring patients to full disease remission without symptoms. However, although corticosteroids are used universally in immune-mediated disorders, they are double-edged swords. Steroids have high efficacy at inducing remission (up to 80% in steroids naïve patients) but the side effect profile does not allow long-term treatment.
Moreover, up to 20% of patients lose the response to steroids over time. Many of the treatment goals can also be achieved with azathioprine and probably also with methotrexate, these immunomodulators are characterized by a slow onset of action, and therefore are only useful to maintain remission. Furthermore, virtually all clinical trials have convincingly shown that anti-TNF agents are efficacious in most patients failing adequate courses of immunomodulators such as azathioprine. Adalimumab is a fully human anti-TNF-α monoclonal antibody and consists of human derived heavy- and light-chain variable regions and human IgG1 constant region.
---
Mechanism of Action
The initial hypotheses leading to the development of anti-TNF-alpha antibodies as an IBD therapeutic tool resulted in the generation of data indicating that TNF-alpha represents a key cytokine involved in CD and UC. TNF-alpha is a transmembrane homotrimeric protein that is mainly expressed on, and secreted by, activated macrophages and T-lymphocytes. After proteolytic cleavage of the extracellular domain of the membrane-bound TNFalpha, these cells release soluble TNF-alpha. Both forms of TNF-alpha are able to bind to TNF-alpha receptor (TNFR)-1 or -2. After binding to TNFR-1 or -2, TNF-alpha activates several intracellular transduction pathways that lead to its physiological and pathological effects. TNF-alpha has been demonstrated to be an essential mediator in numerous immunological responses that include the downstream induction of ILs (eg, IL-1, IL-6, interferon-γ), adhesion molecules (eg, intracellular adhesion molecule-1), production of other inflammatory mediators, cell survival, differentiation, apoptosis, or necrosis. In inflammatory bowel disease (IBD), increased amounts of soluble and membranebound tumour necrosis factor (TNF) are produced by various immune and stromal cell populations, such as macrophages, dendritic cells (DCs), effector T cells, adipocytes etc.
Adalimumab binds specifically to TNF-alpha and blocks its interaction with the p55 and p75 cell surface TNF receptors. Adalimumab also lyses surface TNF-expressing cells in vitro in the presence of complement. Adalimumab does not bind or inactivate lymphotoxin (TNF-beta). TNF is a naturally-occurring cytokine that is involved in normal inflammatory and immune responses.
Adalimumab also modulates biological responses that are induced or regulated by TNF, including changes in the levels of adhesion molecules responsible for leukocyte migration [ELAM-1, VCAM-1, and ICAM-1]
---
Dosage & Administration
Adults with Crohn's Disease or Ulcerative Colitis:
The recommended induction dose is 160 mg at Week 0 (dose can be administered as four injections in one day or as two injections per day for two consecutive days), followed by 80 mg at Week 2.
The recommended maintenance dose regimen is 40 mg every other week beginning at Week 4.
---
Efficacy & Safety
Efficacy
Induction of Clinical Remission: CLASSIC-I/GAIN Trial
CLASSIC-I Study Design [GASTROENTEROLOGY 2006;130:323–333]
Duration: 4-week, randomized, double-blind, placebo-controlled, multicenter study.
Patients: 299 anti-TNF–naïve patients with moderately to severely active Crohn's disease defined as a Crohn's disease Activity Index (CDAI) score of 220–450
Dosing:
3 regimens of ADALIMUMAB were compared against control (placebo ± concomitant therapy):

ADALIMUMAB 160 mg at week 0 followed by 80 mg at week 2
ADALIMUMAB 80 mg at week 0 followed by 40 mg at week 2
ADALIMUMAB 40 mg at week 0 followed by 20 mg at week 2

Primary Endpoint: Percentage of patients achieving induction of clinical remission in the 2 higher doses compared with control at Week 4.
Concomitant Therapies: All patients may have received concomitant stable doses of conventional therapies that included 5-aminosalicylates, immunomodulators, corticosteroids, and Crohn's-related antibiotics.
Analysis:

Intent-to-treat (ITT) study population
Patients with missing data were classified as not in clinical remission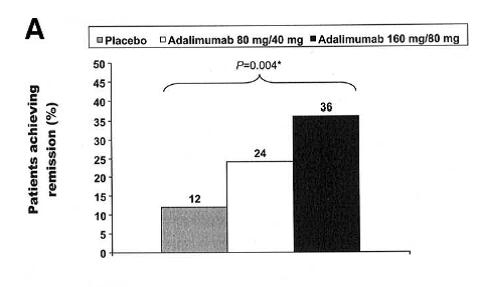 (A) Percentage of patients in the 2 highest adalimumab dose groups and the placebo group achieving remission at week 4 (*P = .004 for a significant difference among the 3 groups).
GAIN Study Design[Ann Intern Med. 2007;146(12):829-838]
Duration: 4-week, randomized, double-blind, placebo-controlled, multicenter study.
Patients: 325 adults with moderately to severely active Crohn's disease (defined as a CDAI score of 220–450) who lost response to, or were intolerant to, infliximab
Primary Endpoint: Percentage of patients achieving induction of clinical remission in ADALIMUMAB-treated patients vs control at Week 4
Concomitant Therapies: All patients may have received concomitant stable doses of conventional therapies that included 5-aminosalicylates, immunomodulators, corticosteroids, and Crohn's-related antibiotics.
Analysis:

Intent-to-treat (ITT) study population
Patients missing data were classified as not in clinical remission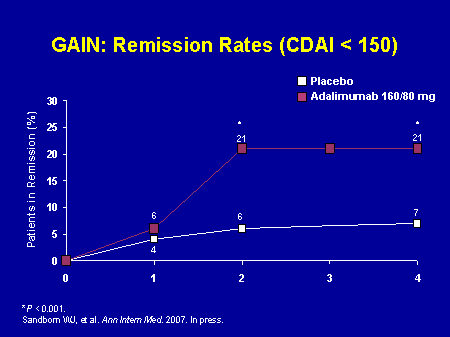 Maintenance of Clinical Remission: CHARM
CHARM Study Design [Gastroenterology. 2007;132(1):52-65]
Duration: 56-week, randomized, double-blind, placebo-controlled, multicenter study.
Patients: 854 adult patients with moderately to severely active Crohn's disease defined by a Crohn's Disease Activity Index (CDAI) score of 220-450 points
Dosing: All patients received open-label ADALIMUMAB 80 mg at Week 0 and 40 mg at Week 2

Patients who achieved clinical response (CR-70) at Week 4 were randomized to control (placebo ± concomitant therapy), ADALIMUMAB 40 mg EOW, or ADALIMUMAB 40 mg weekly

Co-Primary Endpoint: Clinical remission (Weeks 26 and 56) for each ADALIMUMAB group vs control in the 499 patients with CR-70 response at Week 4 after open-label induction therapy
Concomitant Therapies: All patients may have received concomitant conventional therapies that included 5-aminosalicylates, immunomodulators, corticosteroids, and Crohn's-related antibiotics.
Analysis:

Modified intent-to-treat (mITT) study population using observed case (OC) analysis
All randomized patients who have received ≥1 dose of study drug and achieved CR-70 at Week 4
Patients who discontinued double-blind treatment were classified as not in clinical remission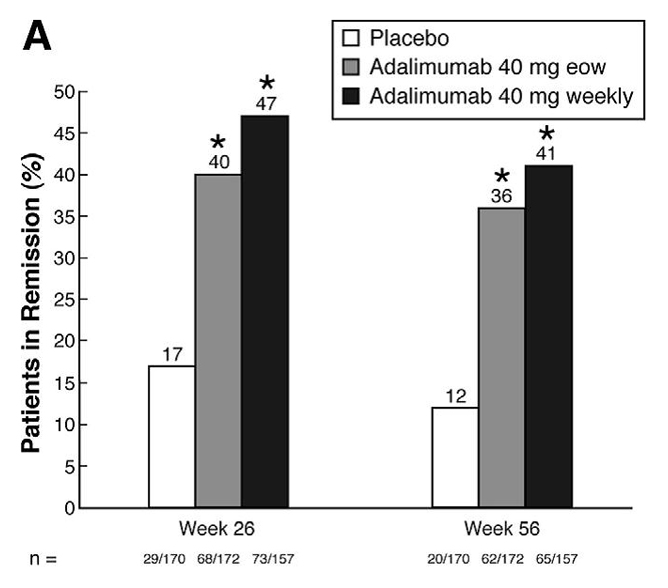 (A) Clinical remission at weeks 26 and 56 in randomized responder population (week-4 responders). Remission defined as a decrease in CDAI score to < 150. *P < .001 for pairwise comparison between each adalimumab treatment group and placebo. eow, every other week.
---
Safety
IMPORTANT SAFETY INFORMATION for EXEMPTIA (adalimumab)1
SPECIAL WARNINGS AND PRECAUTIONS FOR USE
Infections
Patients taking TNF-antagonists or with impaired lung function are susceptible to serious infections and therefore should be monitored throughout Adalimumab treatment including before, during and after treatment.
Patients should only be treated with Adalimumab after active infections including chronic or localized infections are controlled. Risks and benefits of Adalimumab therapy should be reviewed prior to initiating the treatment in patients who have been exposed to tuberculosis (including travelled through high risk tuberculosis areas) or endemic mycoses such as histoplasmosis, blastomycosis and coccidioidomycosis.
When patients develop a new infection while being treated with Adalimumab, a complete diagnostic evaluation should be performed and the patient should be closely monitored. Adalimumab should be discontinued in cases where a new serious infection or sepsis develops, and appropriate antifungal or antimicrobial therapy should be initiated to control the infection. Physicians should prescribe Adalimumab with caution after examining patient's history to infections including the use of concomitant immunosuppressive medications.
Serious infections
Patients receiving Adalimumab have encountered hospitalization, fatal outcomes, serious infections such as pneumonia, pyelonephritis, septic arthritis and septicemia due to bacterial, mycobacterial, invasive fungal, parasitic, viral, or other opportunistic infections such as listeriosis, legionellosis and pneumocystis.
Tuberculosis
All patients must be examined in detail (including medical history) for both, active or inactive (latent) tuberculosis infection and current immunosuppressive therapy prior to administering Adalimumab as tuberculosis has been reported in patients receiving Adalimumab. The patient's file should have records of tuberculin skin test and chest X-ray. Adalimumab therapy should not be initiated in those patients who have been diagnosed with active tuberculosis.
An expert in tuberculosis should be consulted if latent tuberculosis is suspected when Adalimumab treatment is being considered.
If latent tuberculosis is diagnosed, appropriate treatment must be started with anti-tuberculosis prophylaxis treatment before the initiation of Adalimumab, and in accordance with local recommendations. Use of anti-tuberculosis prophylaxis treatment should also be considered before the initiation of Adalimumab in patients with several or significant risk factors for tuberculosis despite a negative test for tuberculosis and in patients with a past history of latent or active tuberculosis in whom an adequate course of treatment cannot be confirmed.
Patients should be instructed to seek medical advice for symptoms such as persistent cough, wasting/weight loss, low grade fever etc. that occur during or after Adalimumab treatment.
Other opportunistic infections
Adalimumab treatment can result in opportunistic infections including invasive fungal infections in patients which if left untreated may prove fatal.
Adalimumab treatment should be discontinued in patients who show symptoms of fever, malaise, weight loss, sweats, cough, dyspnea, and/or pulmonary infiltrates or other serious systemic illness with or without concomitant shock, and an invasive fungal infection should be suspected. Antifungal therapy should be initiated under extreme care and expertise in patients who show invasive fungal infections.
Hepatitis B reactivation
Patients who are chronic carriers of Hepatitis B virus (i.e., surface antigen positive) can show reactivation of hepatitis B while being treated with TNF-antagonists such as Adalimumab, which in the past have sometimes resulted in fatal outcomes. Therefore, HBV infection test should be performed prior to administration of Adalimumab and an expert in treatment of hepatitis B should be consulted for patients who test positive for hepatitis B virus infection.
Signs and symptoms for active HBV infection should be monitored in carriers of HBV throughout Adalimumab treatment and for several months after termination of therapy. Adalimumab treatment should be discontinued and anti-viral therapy should be initiated if HBV reactivation occurs in a patient.
Neurological events
Rarely, Adalimumab and other TNF-antagonists have been shown to be associated with exacerbation or new onset of central or peripheral nervous system demyelinating disorders such as multiple sclerosis and Guillain-Barré syndrome. Thus, Adalimumab should be prescribed with caution in such cases.
Allergic reactions
Only rare incidents of serious/non-serious allergic reactions such as anaphylaxis have been reported with Adalimumab treatment. Adalimumab treatment should be discontinued if serious allergic reactions such as anaphylaxis, allergic rash, fixed drug reaction, non-specified drug reaction or urticaria are observed in patients.
Immunosuppression
Adalimumab treatment is not reported to be associated with depression of delayed-type hypersensitivity, depression of immunoglobulin levels, or change in enumeration of effector T-, B, - NK-cells, monocyte/macrophages, and neutrophils in clinical studies.
Malignancies
Rare instances of malignancies such as lymphoma and leukemia have been seen in patients treated with TNF-antagonists. RA patients with long-standing highly active, inflammatory disease are at a higher risk of experiencing these malignancies.
Malignancies in Adults: Cases of malignancies other than lymphoma that have been observed in patients with RA, psoriatic arthritis, ankylosing spondylitis, Crohn's disease and plaque psoriasis are breast cancer, colon cancer, prostate cancer, lung cancer and melanoma. Malignancies in the lung or head and neck were reported in patients treated with infliximab who had moderate to severe chronic obstructive pulmonary disease (COPD) and were heavy smokers. Therefore, caution should be exercised when using any TNF-antagonist in COPD patients, as well as in patients with increased risk for malignancy due to heavy smoking.
Non-melanoma skin cancer: Prior to and during treatment with Adalimumab, patients should be examined for non-melanoma skin cancer especially if they have a history of extensive immunosuppressant therapy or psoriasis patients with a history of PUVA treatment.
Lymphoma and Leukemia: The risk of lymphoma development is higher in patients with RA, other chronic inflammatory diseases particularly with highly active disease or chronic exposure to immunosuppressant therapies than general population even when a TNF blocker is not used. Acute and chronic leukemia were also reported with TNF-antagonist in RA and other indications.
Malignancies, some fatal, have been reported among children, adolescents and young adults (up to 22 years of age) treated with TNF-antagonists (initiation of therapy ≤ 18 years of age), including Adalimumab. Approximately half the cases were lymphomas. The other cases represented a variety of different malignancies and included rare malignancies usually associated with immunosuppression.
Rare cases of hepatosplenic T-cell lymphoma (HSTCL) have occurred in patients treated with Adalimumab. This rare type of T-cell lymphoma has a very aggressive disease course and is usually fatal. Some of these HSTCL with Adalimumab have occurred in young adult patients on concomitant treatment with azathioprine or 6-mercaptopurine.
Haematologic reactions
The following haematologic reactions have been reported with TNF-antagonists: pancytopaenia, aplastic anaemia, cytopoenia (e.g. thrombocytopaenia, leucopaenia) and blood dyscrasias (e.g. persistent fever, bruising, bleeding, pallor). Medical attention should be sought upon observation of these symptoms and Adalimumab should be discontinued.
Vaccinations
Similar antibody responses to the standard 23-valent pneumococcal vaccine and the influenza trivalent virus vaccination were observed in a study in adult subjects with RA who were treated with Adalimumab or placebo. Therefore, patients can receive vaccination (except live vaccines) while on Adalimumab treatment.
Congestive heart failure
Increased mortality and worsening congestive heart failure have been reported in patients treated with TNF-antagonists including Adalimumab. Treatment must be discontinued inpatients who develop new or worsening symptoms of congestive heart failure.
Autoimmune processes
Autoantibodies may develop in patients taking Adalimumab with rare instances of symptoms of lupus-like syndrome. Adalimumab treatment should be discontinued in such cases.
Concurrent administration of TNF-antagonists or other biological DMARD
Serious infections have been seen with concurrent use of Anakinra with Etanercept. Therefore Adalimumab is not recommended to be used with Anakinra. Adalimumab should also not be used with Infliximab, Etanercept, Abatacept, Certolizumabpegol, or Golimumab.
Small bowel obstruction
Failure to respond to treatment for Crohn's disease may indicate the presence of fixed fibrotic stricture that may require surgical treatment. Available data suggest that Adalimumab does not worsen or cause strictures.
Surgery
There is little or no safety experience in patients undergoing surgical procedures or arthroplasty during Adalimumab treatment. The long half-life of Adalimumab should be considered prior to planning a surgery and the patient should be monitored for infections.
Elderly Population
Risk of infection in elderly patients over 65 years of age is higher than those below this age with some having fatal outcomes. Thus, particular attention should be given.
---
INTERACTION WITH OTHER MEDICINAL PRODUCTS AND OTHER FORMS OF INTERACTION
Adalimumab treatment as monotherapy and with concomitant methotrexate has been studied in rheumatoid arthritis, polyarticular juvenile idiopathic arthritis and psoriatic arthritis patients. Adalimumab when given with methotrexate results in lower antibody formation, decreased clearance and increased efficacy of Adalimumab in comparison to Adalimumab monotherapy treatment. Combinations of Adalimumab with Anakinra, and Adalimumab with Abatacept are not recommended.
PREGNANCY AND LACTATION
Pregnancy
Limited clinical data is available on exposed pregnancies for Adalimumab.
Preclinical studies conducted in monkeys revealed no indication of maternal toxicity, embryotoxicity or teratogenicity; postnatal toxicity and fertility effects of Adalimumab are unavailable.
Adalimumab can affect normal immune responses of the newborn if administered during pregnancy due to its inhibition of TNF and hence it is not recommended in pregnancy. Women should use adequate contraception during Adalimumab treatment and for a further five months after the last dose to prevent pregnancy as it bears the potential to cross the placenta into the serum of infants. This could lead to increased risk of infection to the infant. Live vaccinations to infants exposed to Adalimumab in utero is not recommended for at least 5 months after the mother's last injection.
Lactation
It is not recommended for women to breast-feed for at least five months after the last Adalimumab injection as human immunoglobulins are excreted in milk and there is no data suggesting whether Adalimumab is excreted in human milk or absorbed systemically after ingestion.
EFFECTS ON ABILITY TO DRIVE AND USE MACHINES
Administration of Adalimumab may result in vertigo and visual impairment which can influence the ability to drive and use machines.
ADVERSE EVENTS OBSERVED IN CHL's CLINICAL TRIAL WERE:
Dyspnoea, Fungal infection, Gastritis, Headache, Injection site reaction, Joint swelling, Oligomenorrhoea, Pollakiuria, Polymenorrhoea, Pulmonary tuberculosis, Pyrexia, Rash, Urinary tract infection, Vomiting, Abdominal discomfort, Abdominal pain, Accelerated hypertension, Arthralgia, Asthenia, Body tinea, Chest pain, Cough, Diarrhoea and Dyspepsia.
UNDESIRABLE EFFECTS
The most commonly reported undesirable effects in patients taking Adalimumab include: infections (such as nasopharyngitis, upper respiratory tract infection and sinusitis), injection site reactions (erythema, itching, haemorrhage, pain or swelling), headache and musculoskeletal pain. Some fatal infections (including sepsis, opportunistic infections, TB), HBV reactivation and various maligancies (including leukaemia, lymphoma and HSTCL) have been reported. Serious reactions such as haematological, neurological and autoimmune reactions were also reported. Some rare reactions include pancytopenia, aplastic anaemia, central and peripheral demyelinating events, lupus, lupus-related conditions and Stevens-Johnson syndrome.
---
Support
Disease Calculator
Crohn's Disease Activity Index (CDAI) Score
Crohn's Disease Activity Index (CDAI) was first introduced as a measure of clinical response and remission (the primary endpoint) in luminal Crohn's disease clinical trials in the 1970's, when the landmark National Cooperative Crohn's Disease Study (NCCDS) was first conducted.
Since that time, the CDAI has been used in virtually every major clinical trial involving therapeutic interventions in luminal Crohn's disease, providing an objective "gold-standard" scale which allows unbiased comparison between therapies.
The index was designed prospectively for patients with Crohn's disease involving the small bowel, colon or both. The equation, generated through multiple logistic regression, contains eight variables that reflect the impact Crohn's disease has upon the patient as a whole, rather than just bowel symptoms (Table 1). In order to avoid confounding due to day-today variability in many symptoms associated with Crohn's disease, the CDAI is based upon the average of scores of the course of an entire week.
The CDAI remains the gold standard in measuring disease activity for patients with luminal Crohn's disease. It correlates well with other accepted disease activity scales, as well as the gold-standard measurement of health-related quality of life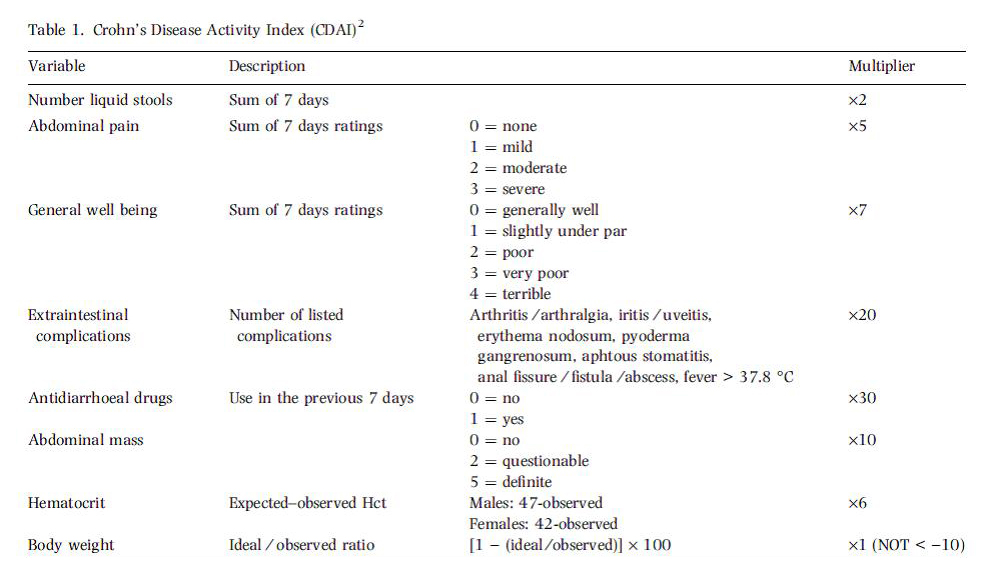 CDAI scores range from 0 to approximately 600.
The limit between active and very severe disease was defined as a cut-off value of 450 points. Investigators have arbitrarily labelled CDAI scores of 150–219 as mildly active disease and scores of 220–450 as moderately active disease.
| | |
| --- | --- |
| CDAI Score | |
| Remission: | Less than 150 |
| Response: | Decrease greater than 70 points (greater than 100 points in more recent clinical trials.) |
| Mild disease: | 150 to 220 |
| Moderate disease: | 220 to 450 |
| Severe disease: | Greater than 450 |